Este blog es para enseñarle cómo colocar un pedido en nuestra tienda en línea.
En este blog, esperamos brindarle más claridad sobre cómo puede realizar un pedido en nuestra tienda web. ¡Pasaremos por todo el proceso paso a paso en detalle!
Esta publicación de blog es ligeramente diferente de lo habitual. ¡Esta vez se trata de todo el proceso de pedido! Durante el año pasado, todos comenzamos a comprar cada vez más en línea, algunos de nosotros incluso por primera vez. Por eso creemos que esto es útil. Con mucha frecuencia recibimos preguntas a través del servicio de atención al cliente sobre cómo realizar un pedido, por lo que con esta publicación de blog esperamos dejarlo completamente claro. Pasaremos por todo el proceso paso a paso en detalle.
1. Hacer un pedido comienza con hacer la selección de sus productos deseados. Utilizaremos el "Imperity Vie Perfume Cream Shampoo" en este ejemplo.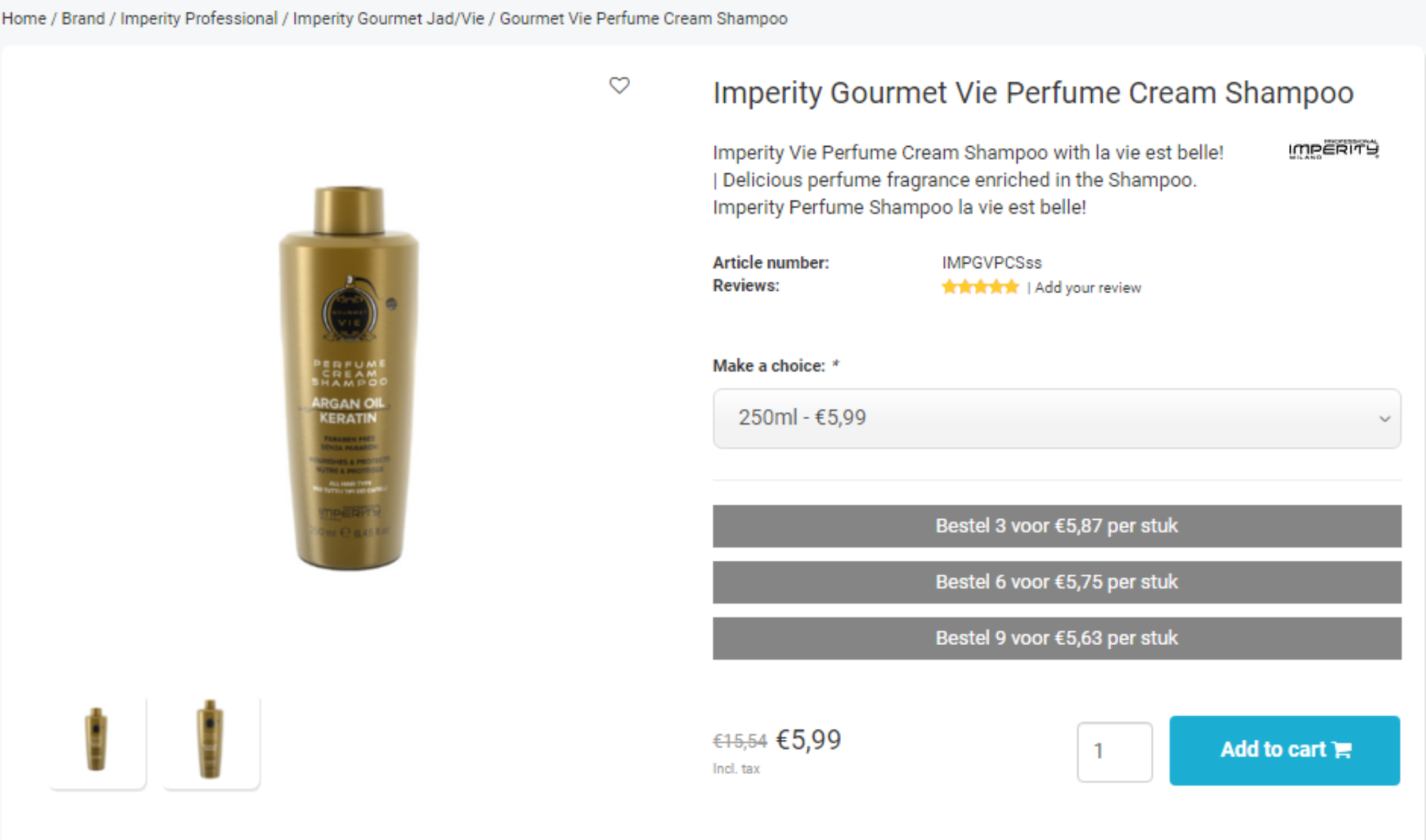 2. En este producto en específico se pueden escoger otras variantes. Usted puede ver las diferentes opciones debajo de "Make a choice", donde de igual manera puede escoger su variante deseada. Nota: muchos productos no tienen variantes, por lo que en esos productos este paso no es necesario.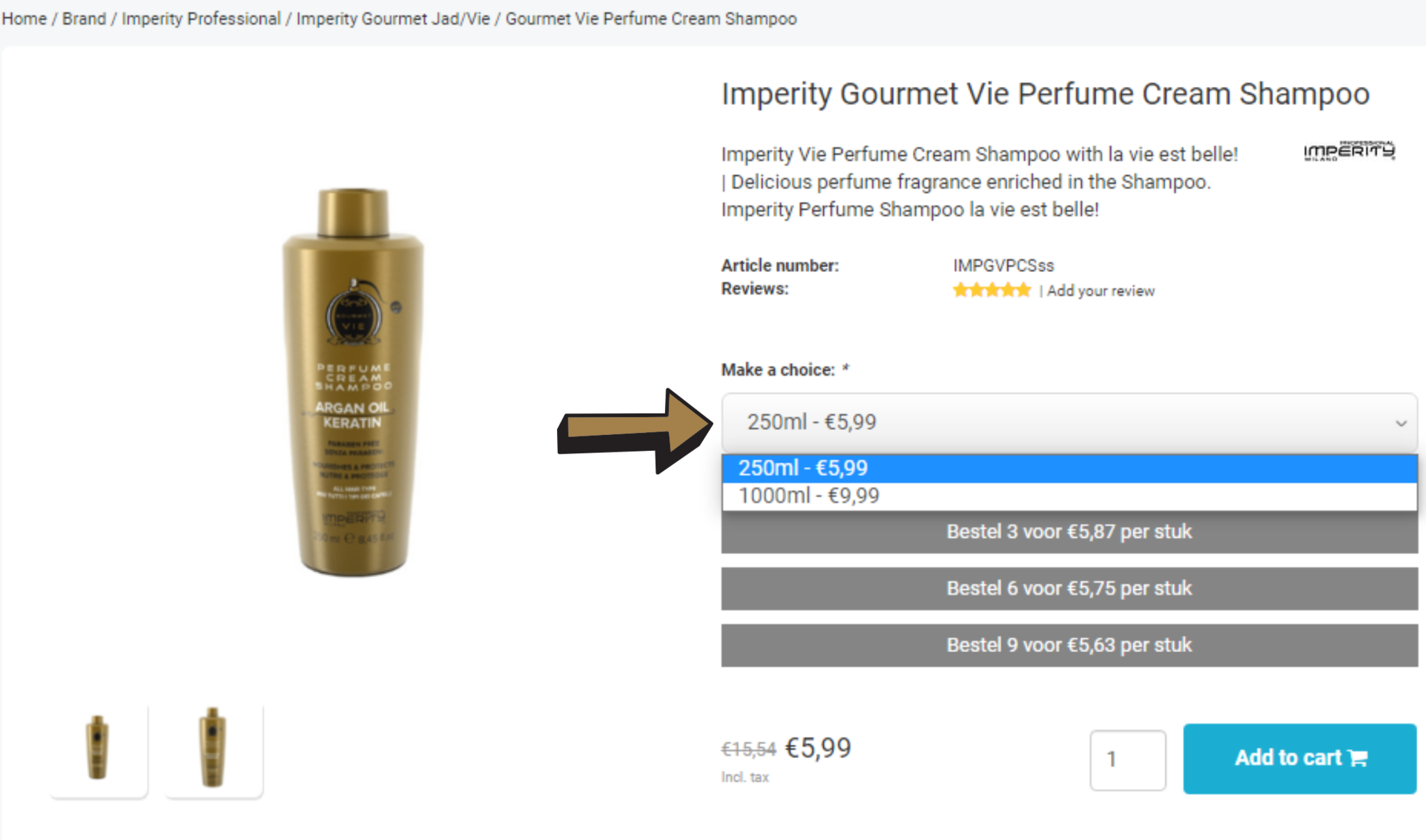 3. Al haber escogido su producto deseado, ahora puede escoger la cantidad de productos que desee comprar. Una vez que haya hecho esto, usted podrá agregar el producto o los productos a su cesta de compra al dar click en el botón azul "Add to cart".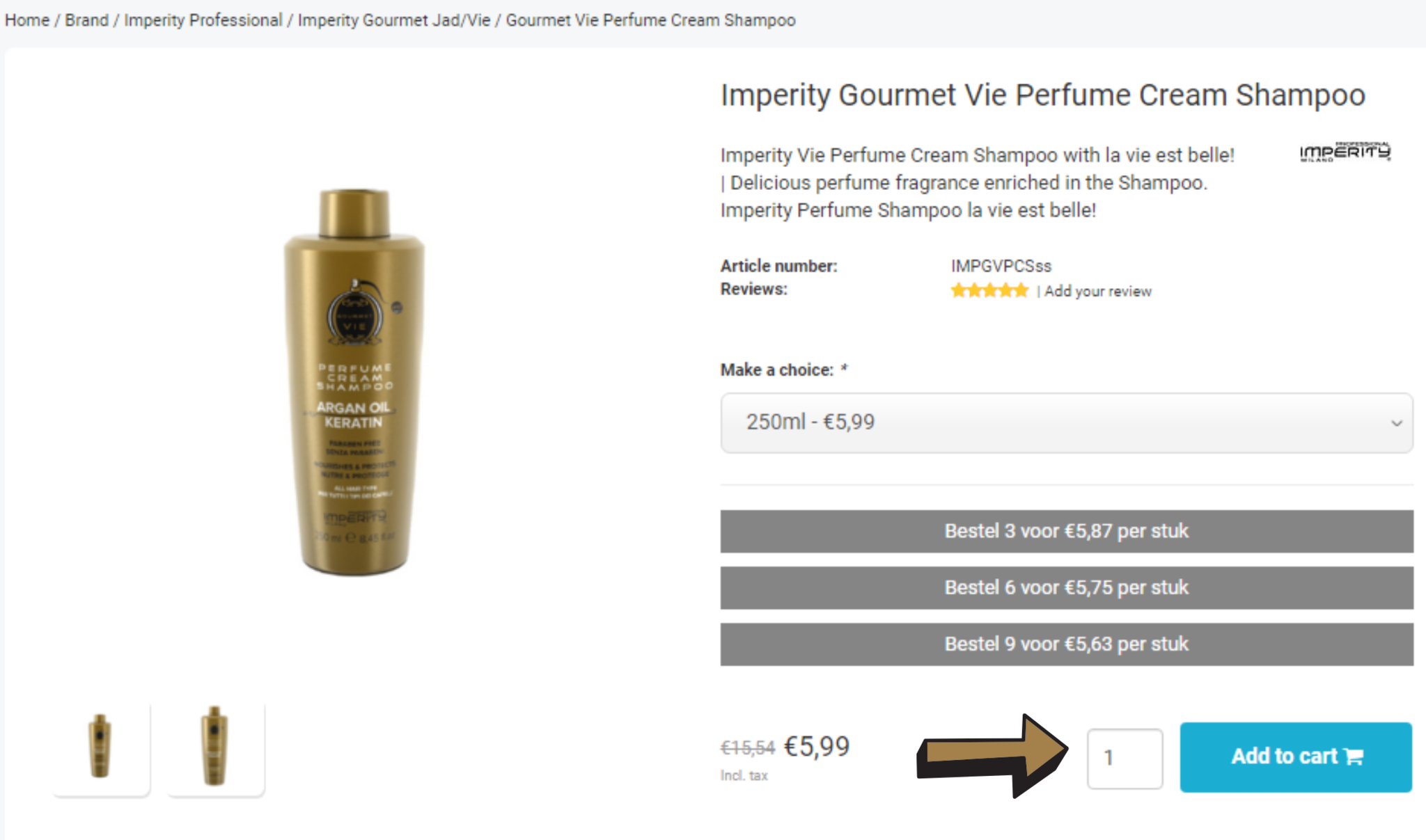 4. Al agregar productos a la cesta aparecerá una pantalla pop-up como la de la imagen de abajo. Aquí podrá ver de nueva cuenta qué producto ha agregado a su cesta de compra. También puede escoger si seguir comprando o dirigirse directamente a finalizar su pedido. En cualquier momento puede revisar su cesta de la compra al dar click en el botón azul de la parte superior derecha del website.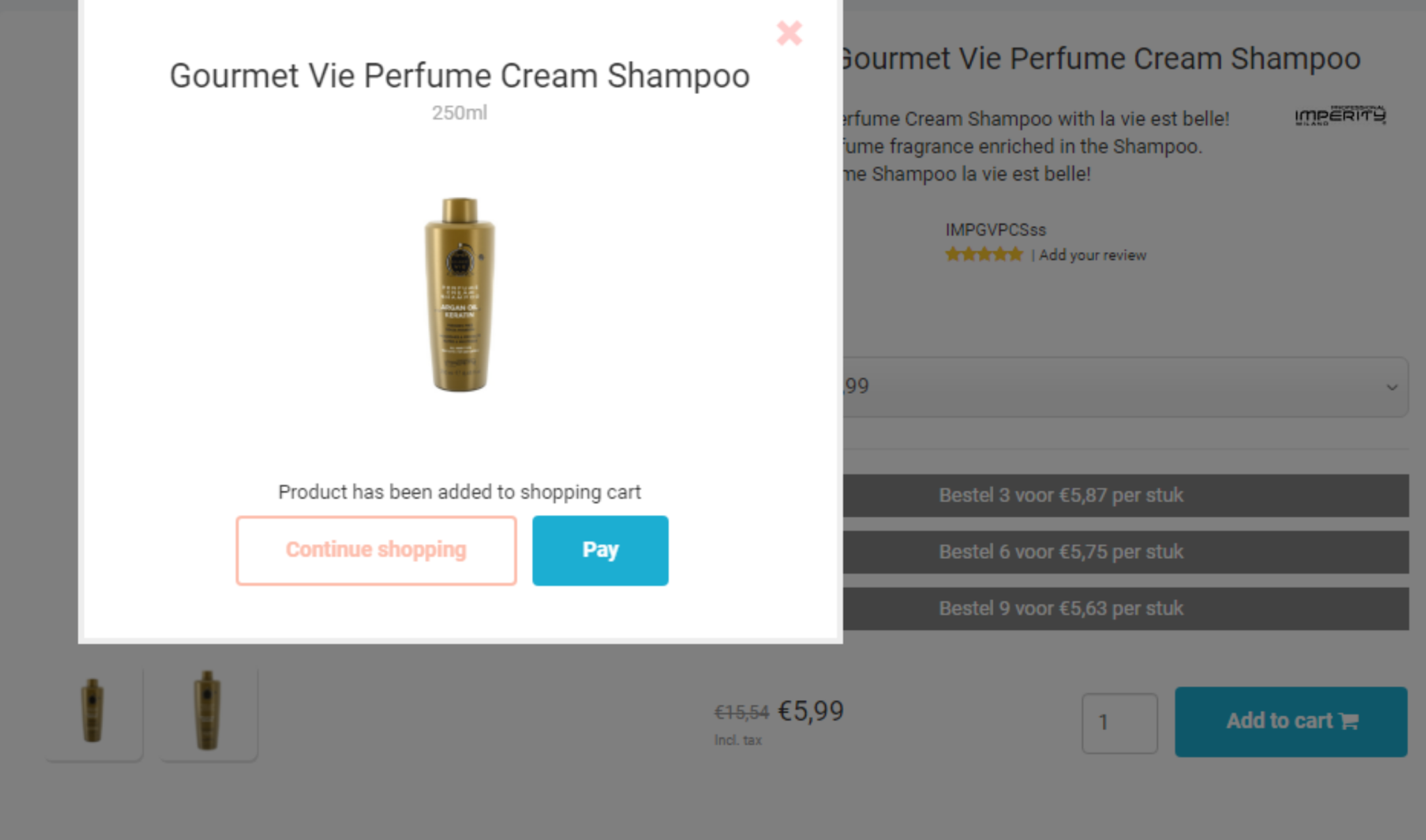 5. En la vista de su cesta de la compra usted puede tener una vista clara sobre cuáles productos desea adquirir. Aqui también puede ajustar la cantidad de productos deseados y eliminar productos no deseados.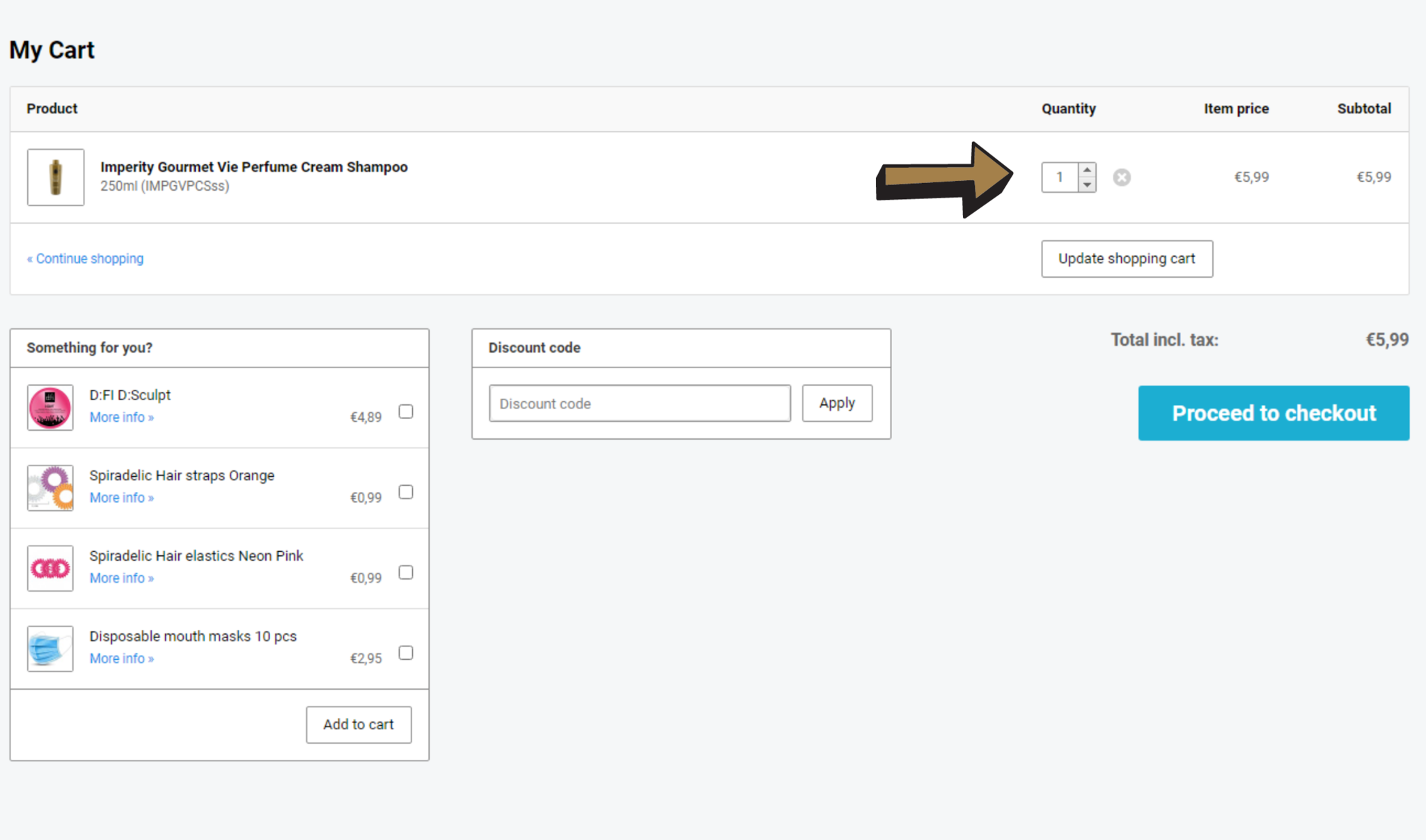 En la parte inferior izquierda usted verá un par de productos recomendados que puede agregar a su cesta de compra. Si desea agregar alguno de estos productos puede dar click al botón "Add to cart".
6. Es posible que tenga un código de descuento que quiera utilizar. Debajo de los productos agregados y de lado de los productos recomendados usted podrá ingresar el código de descuento. Asegúrese de ingresar correctametne el código, tomando en cuenta las mayúsculas.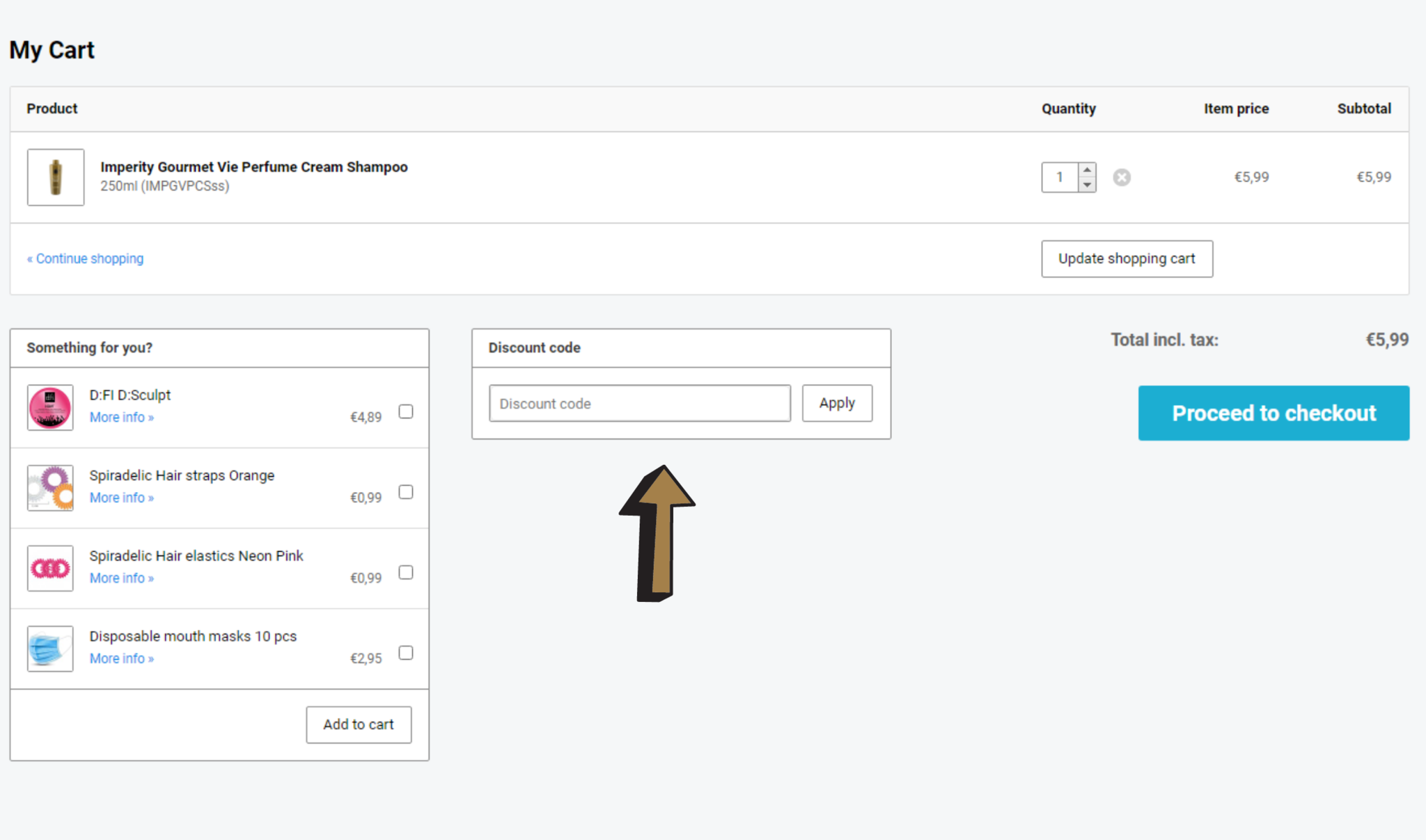 7. Si todos los productos deseados están en su cesta de compra y ha ingresado su código de descuento ahora puede proceder al siguiente paso al dar click en "Proceed to ckeckout". Al dar click le aparecerá la pantalla de abajo, donde usted podrá llenar sus datos para así nosotros poder preparar su pedido y enviarlo correctamente.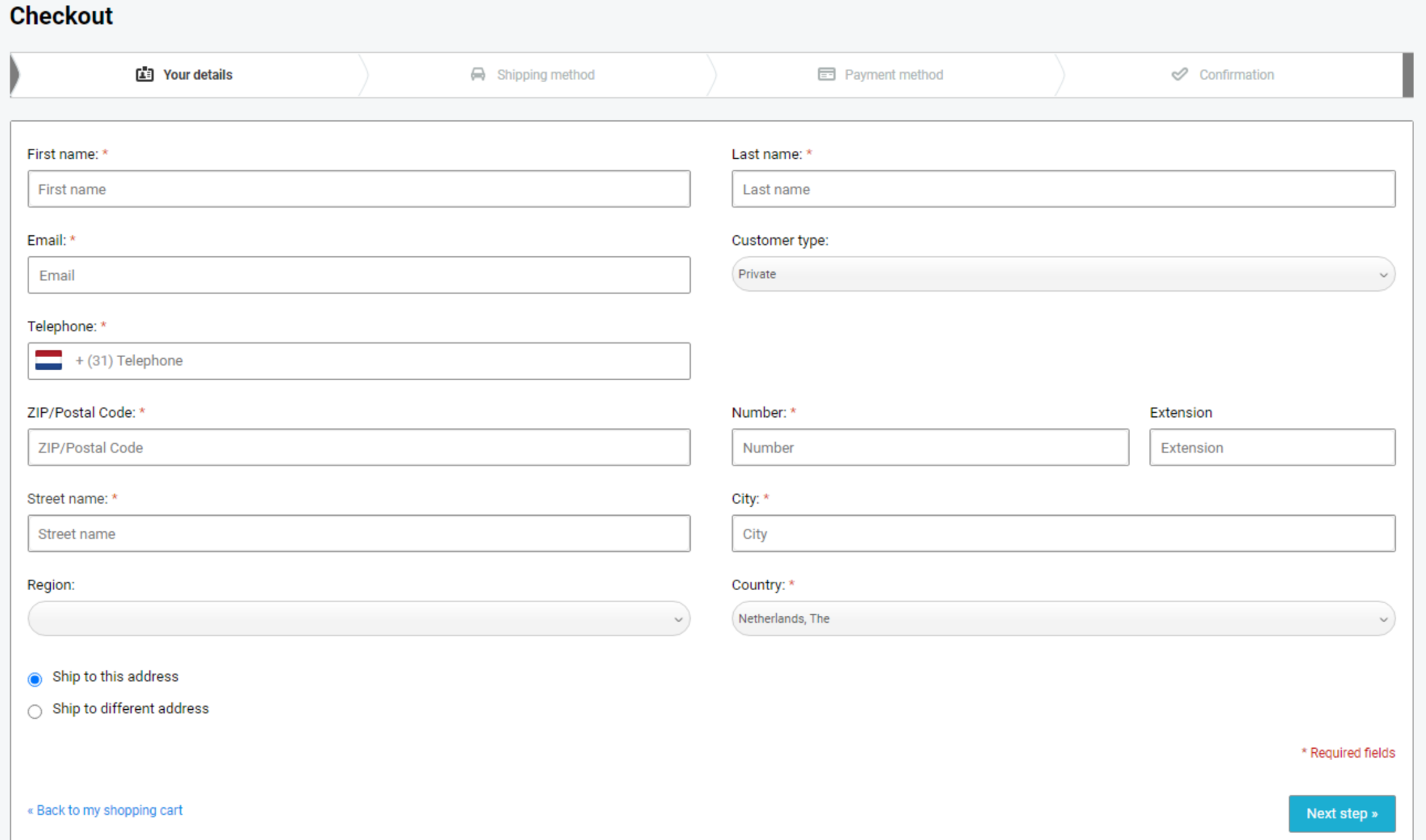 8. Después de haber ingresado los datos requeridos podrá escoger si desea enviar el pedido a la dirección específicada o a otra dirección.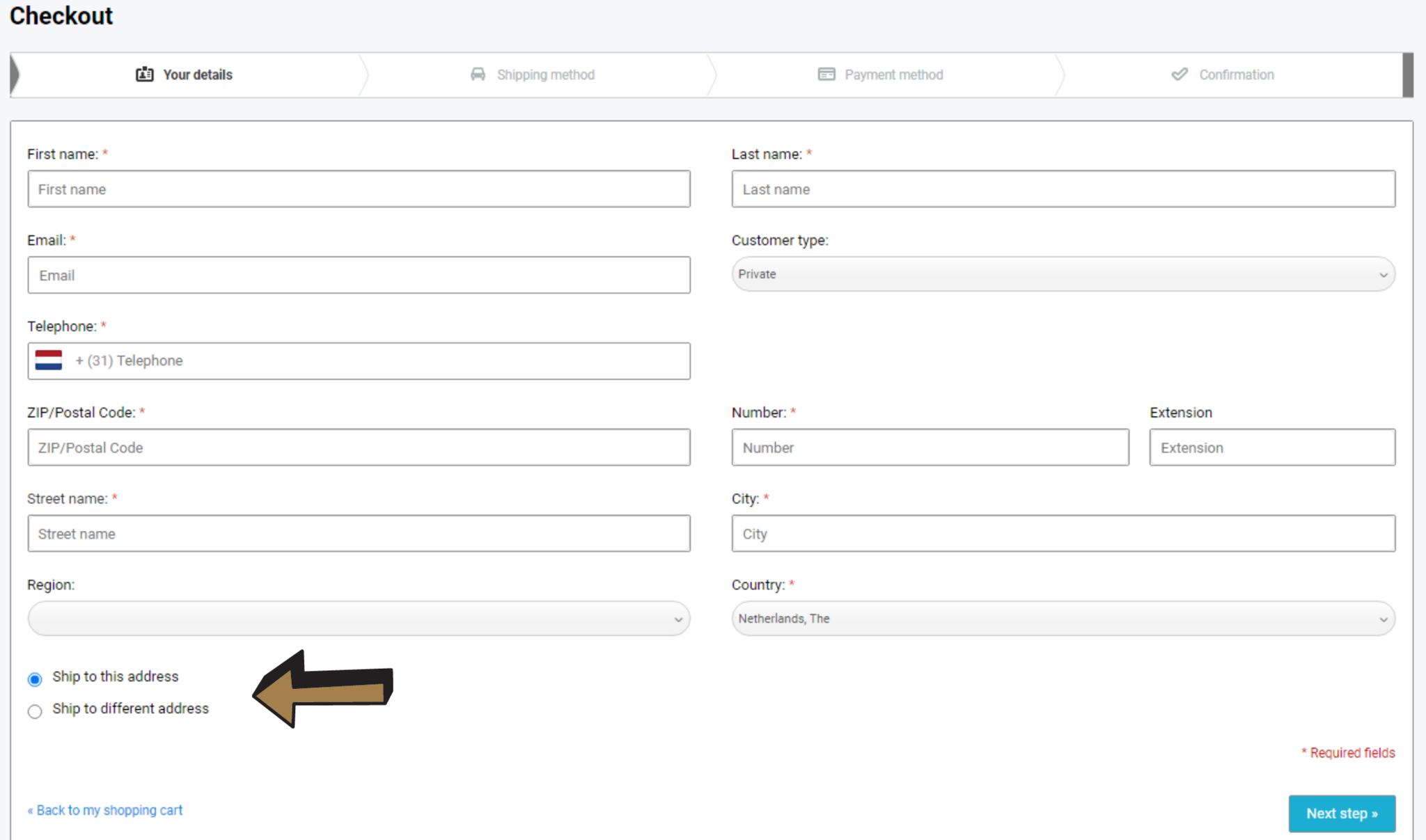 9. Después de que todos los datos han sido llenados usted podrá escoger un tipo de envío. Puede escoger recoger su pedido en nuestro almacén ubicado en Nijkerk, lo cual es gratis, o recibir su pedido en la comodidad de su casa via DHL. Este costo envío depende de que tan grande sea su compra.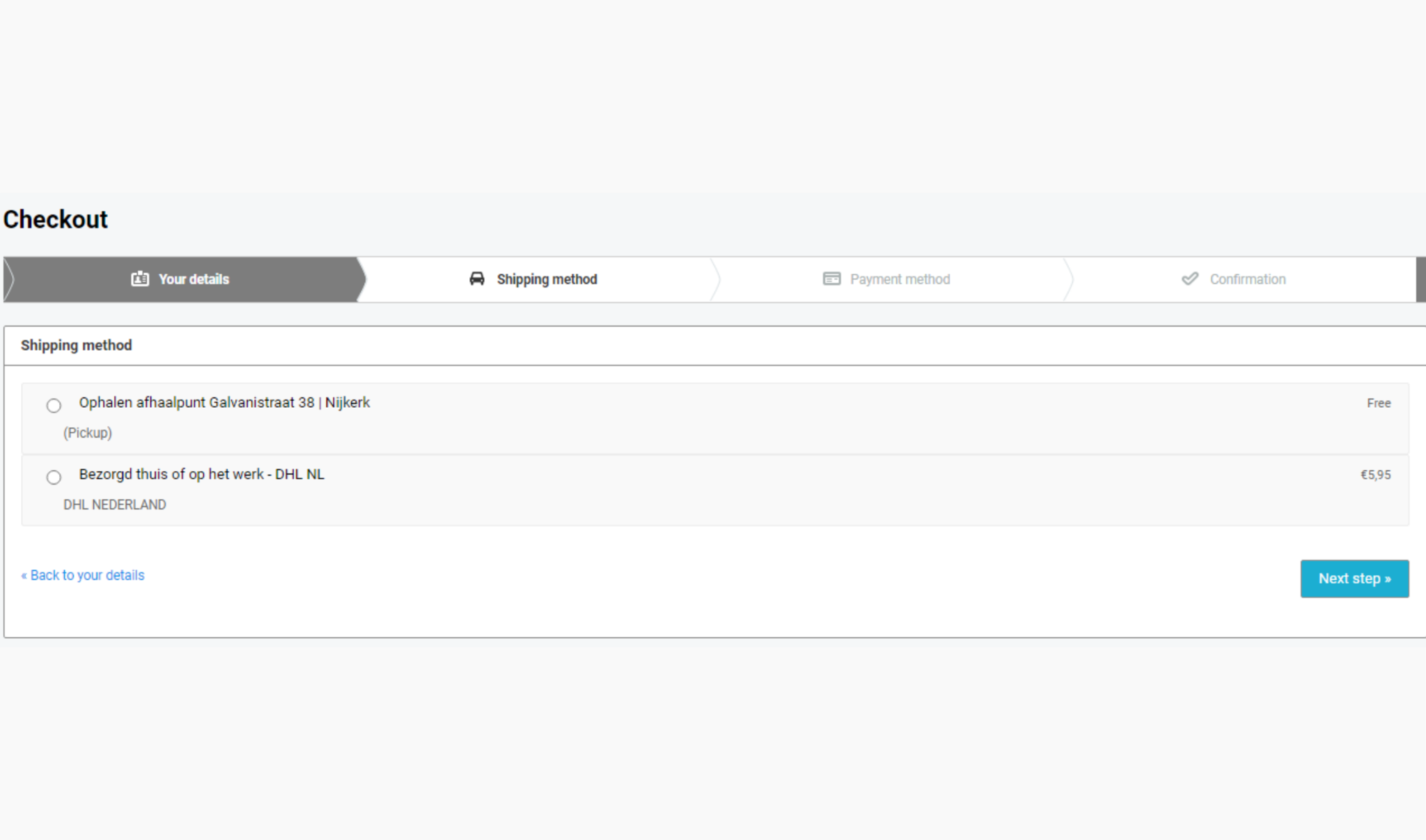 Escoja su método de envío de preferencia y proceda al siguiente paso.
10. En el siguiente paso podrá escoger su método de pago de preferencia. Ofrecemos una gran variedad de métodos, esperemos que el suyo esté disponible. Si es así, seleccioné el método de pago de preferencia y proceda al siguiente paso.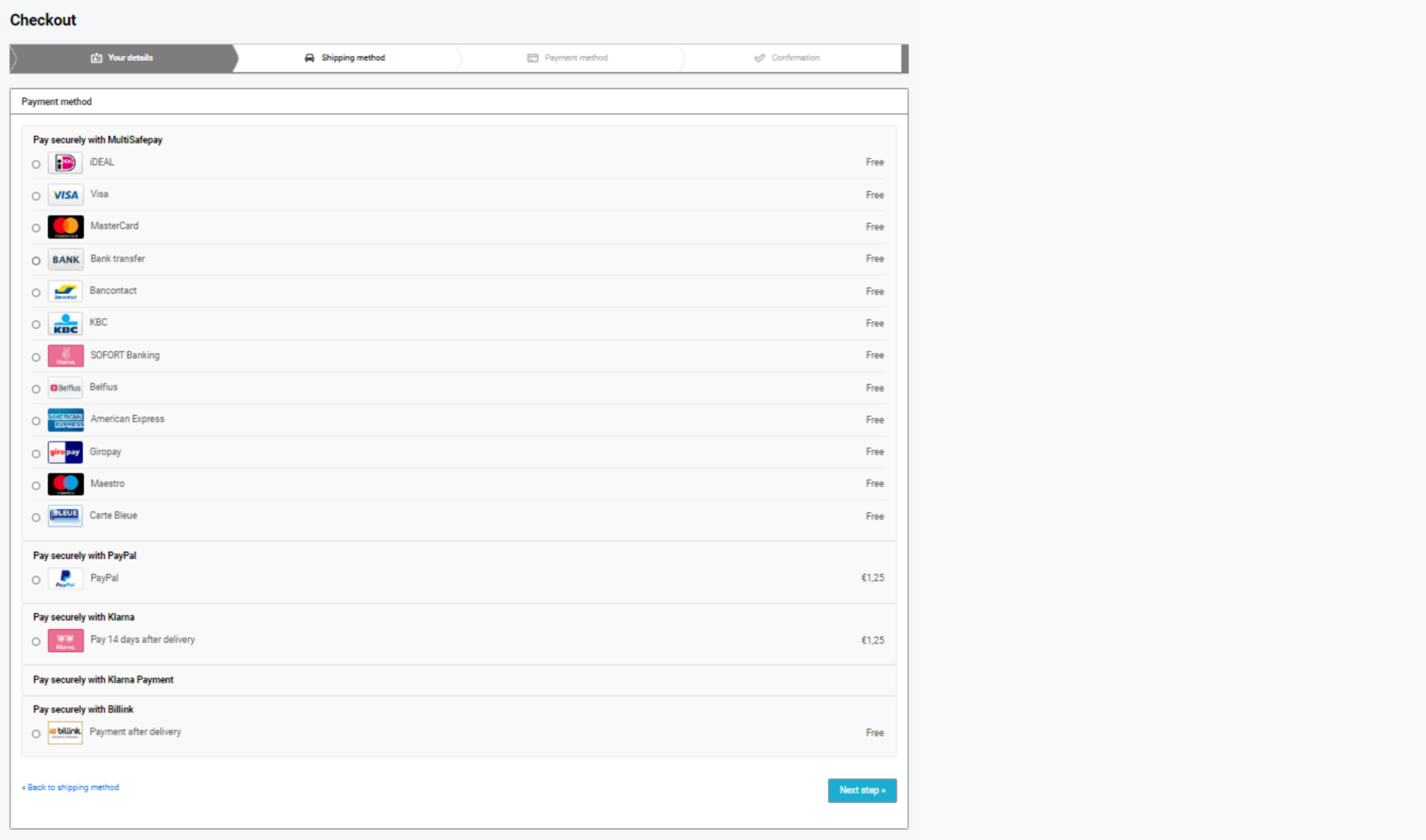 11. Ahora le aparecerá una vista previa donde podrá revisar que toda la información de su pedido esté en orden. Aquí también tiene la posibilidad de suscribirse a nuestro boletín informativo en donde compartimos descuentos exclusivos. Si todo está en orden puede dar click en "Buy". Al dar click en este botón acepta los términos y condiciones indicados en la misma ventana.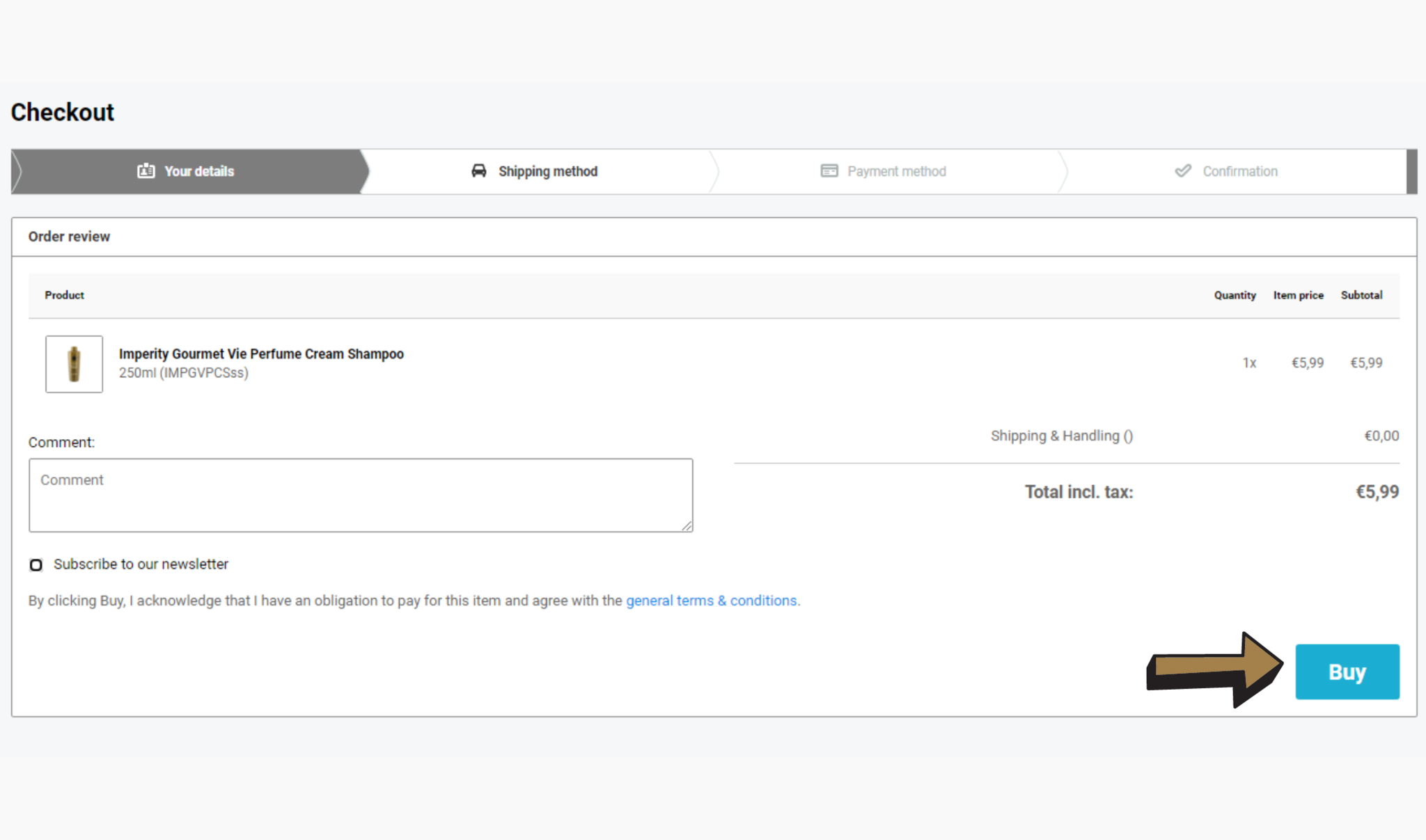 12. Al haber dado click en "Buy" usted podrá pagar, a menos de que haya escogido otro método de pago. Después de este paso, ¡su pedido ha sido recibido con nosotros y trabajaremos lo más rápido posible en su pedido!
¡Esperemos que este blog le haya servido y que haya sido de su agrado!