Enviado el
Por Team Hairandbeauty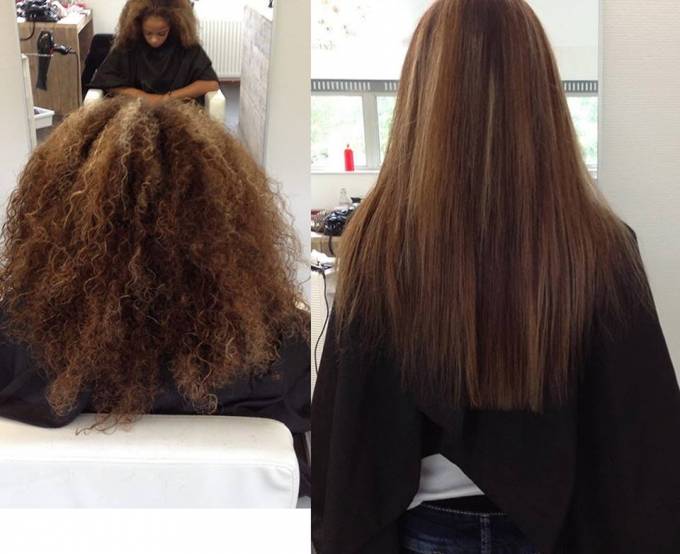 Keratine behandeling
Doe mij ook maar zo een behandeling!

Vrouwen met kroes en krullend haar lopen de afgelopen ander half jaar de deuren plat bij hun kapsalon, met het verzoek: "Doe mij ook maar zo'n Braziliaans keratine behandeling!". Ze verlaten vol enthousiasme de kappersstoel. Logisch eigenlijk, want pluizige, droge en doffe krullen transformeren zich binnen enkele uren tot glad, steil(er) en glanzend haar.
Gelukkig hoef je vandaag de dag de deur niet meer uit voor een keratine behandeling, die kan je gewoon vanuit thuis doen, zonder dat daar ook maar een kapper aan te pas komt.
Wil jij ook een (thuis) keratine behandeling ondergaan? Dan is het goed om verder te lezen!
Keratine, wat is het en waar zit het?
Wanneer je aan keratine denkt, denk je al direct aan een behandeling. Echter, keratine is op zichzelf geen behandeling. Het is namelijk een proteïne, een bouwstof dat altijd al in je haar aanwezig is en ook blijft. Deze bouwstof maakt je haar sterker. Hoe minder keratine (= dus proteïne) je in je haar hebt, des te zwakker je haar met de tijd wordt. De meeste keratine behandelingen worden gedaan met producten waarvan keratine een bestanddeel is.

Een keratine behandeling hoeft je haar niet steil(er) te maken
Ga je naar de kapper om een keratine behandeling te ondergaan dan verwacht je dat je met steil haar de kapsalon verlaat. In de meeste kapsalons worden de keratine behandelingen namelijk aangeboden als stylingbehandelingen. Je krullen worden behandeld met de keratineproducten en vervolgens wordt je haar met een stijltang bewerkt.
Door de toevoeging van de keratine, heb je dus extra proteïne in je haar gekregen (= dus sterker haar). Deze extra proteïne zorgt ervoor dat je haar wordt beschermd tegen de hitte van de tang. De 'stijltang-optie' die wordt toegevoegd aan de hele keratine behandeling is dus eigenlijk geen musthave. Je kunt keratine namelijk ook gebruiken om je haar een gezonde proteïne behandeling te geven. Hiervoor kun je het beste dit gebruiken http: KLIK HIER 





Laatste redder in nood: Een keratine behandeling!
Last van droog en pluizend haar? Is je haar beschadigd van het verven en stylen met de stijltang? Dan is een keratinebehandeling de laatste redder voor jou!
Jij hebt een volle bos droge, pluizende krullen. Eén dag vind je jouw krullen heel mooi. De andere dag heb je een 'bad hair day'. Maar wat doe je dan? De laatste kans om jouw haren te redden en dat is de keratine behandeling. Voor het haar dat te veel verbrand is geraakt door de stijltang, te veel permanente kleuringen heeft gehad en te vaak relaxt is.

Wanneer je een keratine behandeling bent ondergaan, kun je een afscheidsparty gaan organiseren  voor de stijltang! Dat heb je hierna niet meer nodig, zo 2017! Probeer zo min mogelijk na de behandeling jouw haar te verven. Wacht daar minstens 8 weken mee. Wanneer je de behandeling bent ondergaan zal je als een nieuw mens de wereld binnen treden, met zijdezacht haar waar je u tegen mag zeggen.
KHS Keratin Home System Smoothing Straight System Kit
KLIK HIER is een speciale keratine behandeling voor thuis gebruik. Ideaal, vind je ook niet? De Keratine behandeling is geschikt voor elk haartype en maakt het haar stijl voor maximaal 4 maanden.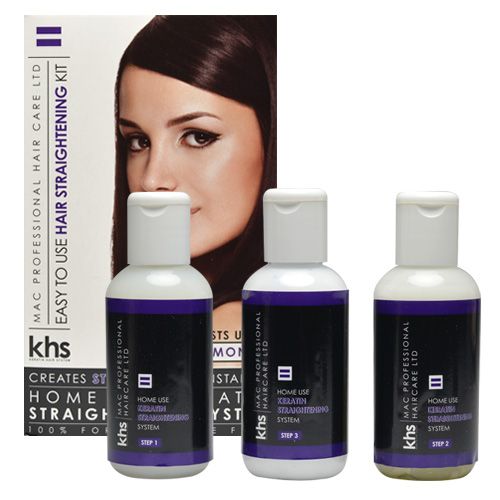 Stap 1:
- Maak uw haar vochtig en breng royaal de conditioner en shampoo aan op het haar.
- Masseer het in uw haar en begin bij de wortels tot aan de punten.
- Spoel het nu grondig uit.
- Breng opnieuw de conditioner en shampoo aan en herhaal het proces.                                                                               

Voor extreem krullend haar, het haar moet slechts 80% droog zijn.

Stap 2:

Let op! goed schudden voor gebruik!


- Veerdeel uw haar in 4 secties.
- Neem 1 van de secties en breng KHS Smoothing System stap 2 aan vanaf 2 cm afstand van de wortels tot aan de punten.
- Doe dit voor elke sectie van uw haar en kam het product door het haar heen voor een gelijkmatige verdeling.
- Laat het product inwerken (zie onderstaande tabel voor inwerktijden).
- Na het inwerken is het van groot belang om uw haar met behulp van een föhn en een platte borstel droog te föhnen. Het moet 100% droog zijn.
- Neem vervolgens een stijltang en verdeel het haar weer in secties.
- Neem een zeer kleine sectie en maak het steil met een stijltang, herhaal dit 5 tot 7 keer per sectie.
- Herhaal dit tot dat u alle secties van uw haar heeft gehad.


Licht golvend haar:               15 minuten
Golvend tot krullend haar:   25 minuten
Zeer krullend haar:                40 minuten 

 
Stap 3:

- Spoel uw haar gedurende 5 minuten.
- Breng stap 3 aan van KHS Keratin Home System Smoothing Straight System Kit in kleine secties.
- Kam het door uw haar zodat het mengsel zich goed door uw gehele haar verspreid.
- Laat het product inwerken (zie onderstaande tabel voor inwerktijden).
- Spoel uw haar grondig uit voor ongeveer 8 minuten zodat alle eventuele resten uit uw haar gewassen zijn.
- Nu kunt u uw haar stijlen als gewenst.


Fijn haar:                                10 minuten
Normaal haar:                       15 minuten
Dik haar:                                 20 minuten
 
 
Voor het beste resultaat gebruik dit: conditioner en shampoo, dit helpt om de resultaten van de behandeling te verlengen.


Let op:
Gebruik geen behandelingen zoals het kleuren van het haar of permanenten, dit heeft gevolgen op de resultaten.
Dit product niet gebruiken binnen 10 dagen voor of na een haarkleuring.



Bewaar de geopende mengsels van stap 1, 2 en 3 nooit! Maar gooi dit onmiddellijk weg, dit om schade als gevolg van het verlopen product te voorkomen.